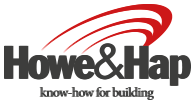 About Howe&Hap
Howe&Hap solves and simplifies complex problems to help our clients build things with a peace of mind.
A multi-disciplined construction management and engineering consulting firm, Howe&Hap serves a variety of industries and project types. Howe&Hap is committed to delivering excellence to contractors, owners, engineers, architects and financial institutions by maintaining the highest standards of quality for consulting services within the construction industry.

We assist our clients in overcoming complicated construction-related situations and accomplishing their project objectives through industry awareness, practical business knowledge and technology experience. Howe&Hap customizes services to meet each client's particular needs in the management, oversight and forensic investigation of construction projects.

Howe&Hap's construction management consultants work personally with each client throughout the duration of the project to ensure that clients meet their project goals and budgets. Our focus on clients and results consistently earns us respect and allows us to complete each project effectively and within our client's specific parameters.